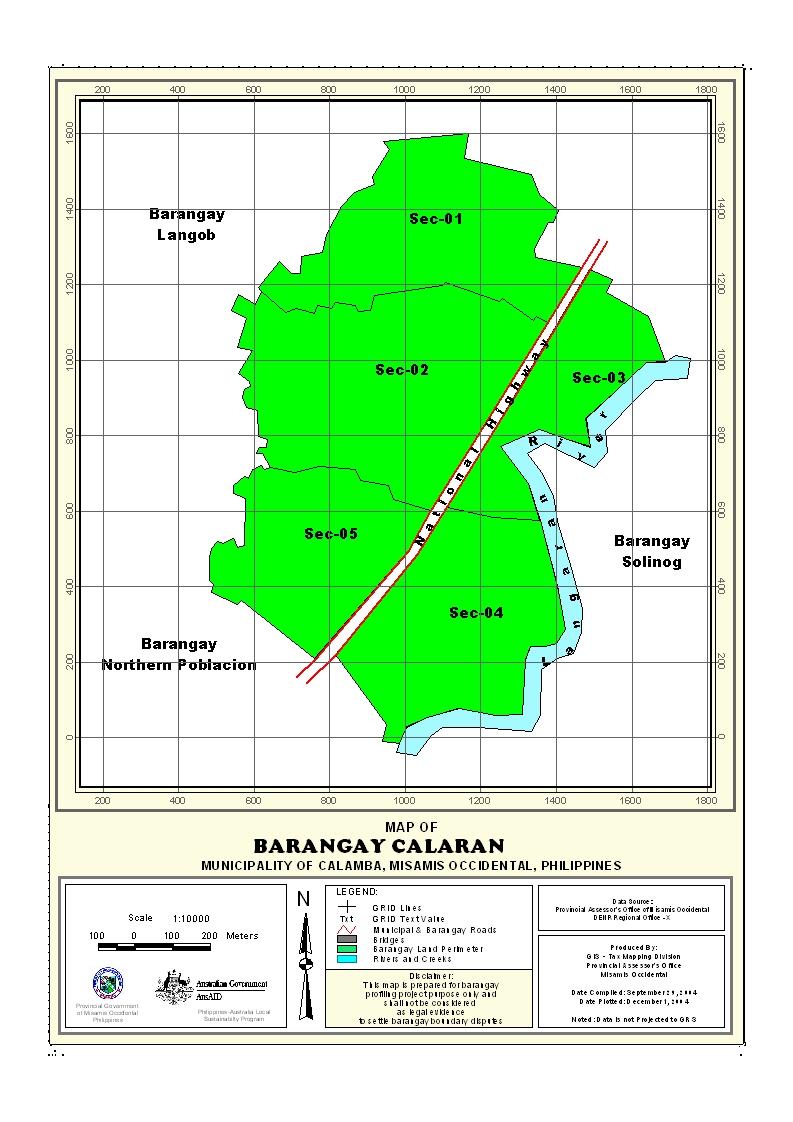 Brief history of the Barangay

Before, barangay Calaran is part of Plaridel, a near by municipality of Calamba and it is adjacent barangay in Northern Poblacion were name after it under the leadership of the elect Teniente del Barrio (w/c call now Punong Barangay Francisco Magtuba .

Barangay Calaran, Calamba, Misamis Occidental was no legislative council created of the LOCAL Government Code of 1991.barangay Calaran celebrate its fieta 15 th day of May in Honor to senior san Isidro Labrador.

Geographical Location

Barangay Calaran is geographically located along the national highway bounded on the North municipality Plaridel And on the Sothth Northern Poblacion by and Solinog , and the East by Langaran River & West is bgy.Langub

Political Subdivision

There are 230 households residing in the barangay which comprises six (3) puroks. The puroks have an average distance of .50 km. from the barangay center, and also having an average of 79 households settling per purok. Purok appears to be density populated while purok 2 has the lowest number of residential households. The barangay has a density of 79 households per sq. km. area.

Land Area

Calaran has a total land area of 561.67 square kilometer or 178.9271 hectares. It is approximately 7.29 has had been used for Residential land area 0.59 of the total land area is commercial and 2.54 institutional

Topography and Land Classification

Calaran low elevation and almost its area are flat lowlands. Estimated elevation of which in between the range from 75-250 meter above sea level and has a dominant slope of about 4-10%. Most of the area is cocoland , Only 2.5 has. is institutional land area.

Soil Types

The Barangay has soil type of clay loam. Interior portion of the barangay with bantog clay soil is devoted to lowland coconut while those with and clay loam are grown with cocoland.

Climate and Rainfall

The Barangay together with the Municipality is the same climatic classification, wherein there is no distinct wet and dry season. The rainiest month is December while the direst month is March. is evenly distributed throughout the year.

General Land Uses



General

Land

Uses

Area In Hectares

Percentage

Agricultural Lands

548.47

97.7420

Cemeteries

1.250

0

Residents Land

7.29

1%

Institutional Land

2.54

0
Open Space

1

1

Commercial Land

0.59

0


Total

561.14

100%