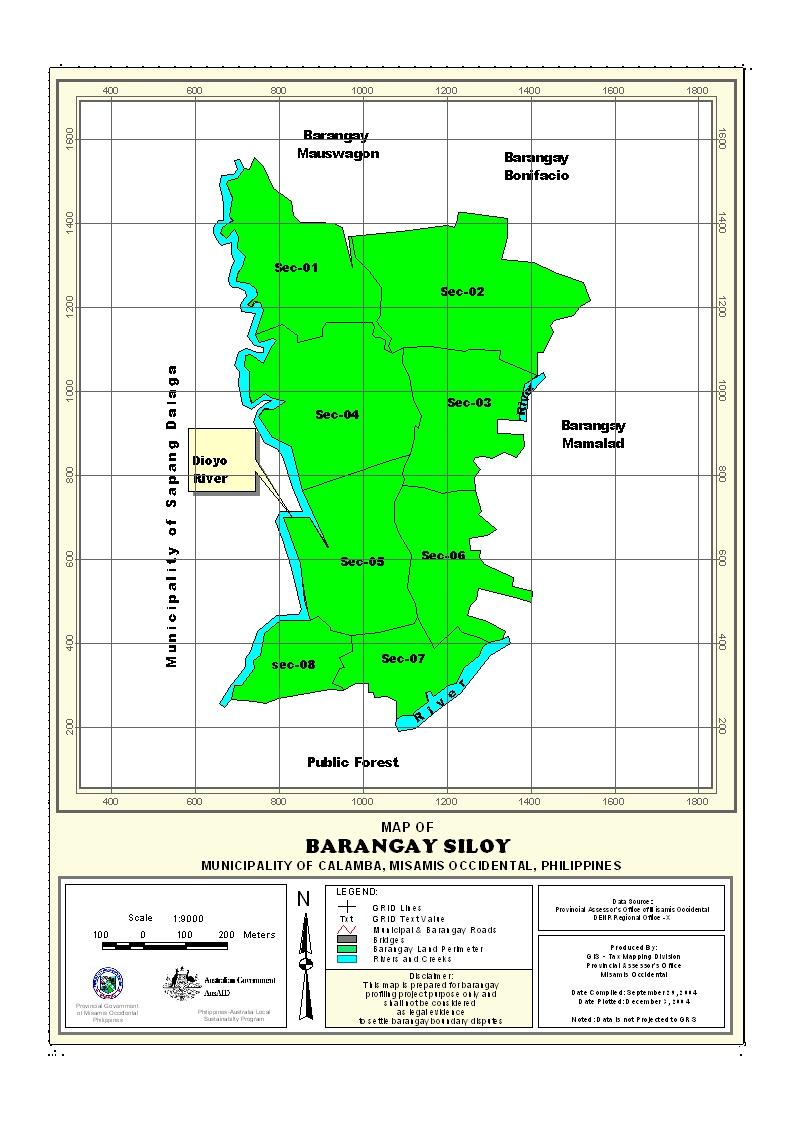 Brief history of the Barangay
Barangay Siloy – In the year 1930, this particular barangay was already declared as a barangay, which was under the municipality of Plaridel, Misamis Occidental, together with barangay Calamba (Municipality of Calamba at present). The barangay name was derived from the nickname of a well known minority leader Solito "Siloy" Apao, in recognition of his achievement in the barangay. Mr. Solito Apao is a Filipino half blood Spanish, and because he was the one considered as a pioneering minority leader in the barangay, all tribal leaders were under his command. Due to his position, he appointed Militon Bonocan as first Teniente del Barrio in 1940, and then it was succeded in person by Honorable Crispen Eman in 1950. Then he was succeeded in 1995 by Honorable Perfecto Clavecillas, who was then defeated by Honorable Bernardo Namata. In 1962 barangay election, Honorable Perfecto Clavecillas was elected as a barangay chairman. In 1980 barangay election, Honorable Perfecto Clavecillas was succeded by Cerilo Bongcac, and then followed by Honorable Anacleto Lorejo in 1985. In 1988 Honorable Mariano Socias was elected as Barangay Chairman, and it was succeded by Honorable Genaro Gomez.
In 1997 barangay Siloy election, Honorable Juan M. Horcerada was elected as Punong Barangay until present.
Geographical Location
Barangay Siloy, Calamba, Misamis Occidental is geographically located in the southern part of the Municipality of Calamba along the provincial road from Poblacion Calamba to barangay Mamalad, and is approximately 9 km. away from the Poblacion.
Lawton is also a sitio of Barangay Siloy.
Political Subdivision
Barangay Siloy is consist of five (5) puroks, namely; Purok I, Purok II, Purok III, Purok IV and Purok V with their kagawad coordinator who assist them in terms of development and activities.
Land Area
The total land area of Barangay Siloy is 11.38060 68 sq. km. for both agricultural land uses and residential and special uses.
Topography and Land Classification
Barangay Siloy has a mountainous and rolling terrain. Of the total land area, 500 hectares are cultivated, while 400 hectares are not cultivated. 72 hectares are for reforestation and 3 hectares for agro forest.
Of the total land area of 1,138.06 hectares, 950 hectares are agricultural land comprise mostly of coco lands, and for cash crops, such as banana, camote, cassava, gabe, corn have 8.5 sq.m.
At a 3 sq. mt. land, the barangay farmers planted trees like mahogany, acasia, gemelina, and high value fruits like durian, mango, rambutan & lanzones and rice at a 0.5 sq. mt. area. They have backyard gardens, planted with vegetables for their own consumption.
Soil Types
The soil type of Barangay Siloy is Adtugon clay loam.
Climate and Rainfall
Siloy has no pronounced wet or dry season. It has erratic weather condition. The entire barangay is outside the typhoon belt.
General Land Uses
Barangay Siloy itself and its agricultural areas have much to offer. It has an abundant supply of coconut and rice as their main product. The existing cash crops, root crops, vegetable, root crops, vegetables and their production are not limited in a backyard scale, giving priority to response the economic condition of the farmers and its family, so with municipality's domestic needs.
The on-going activities for the planting of trees and high value fruits are expected to produce more for commercial value. The barangay also has large deposit of sand and gravel for infrastructure support. With these resources, the barangay will actively contribute to the socio-economic upliftment of life of the people.
| | | |
| --- | --- | --- |
| General Land Uses | Area In Hectares | Percentage |
| Agricultural Lands | 950 | 83.48% |
| Agro-Forest Lands | 3 | .26% |
| Forestlands | 72 | 6.33% |
| Residential Areas | 7.40 | .65% |
| Miscellaneous Land uses-built up area | 105.66 | 9.28% |
| Total | 1,138.06 | 100% |
Percentage= area in ha./total barangay area