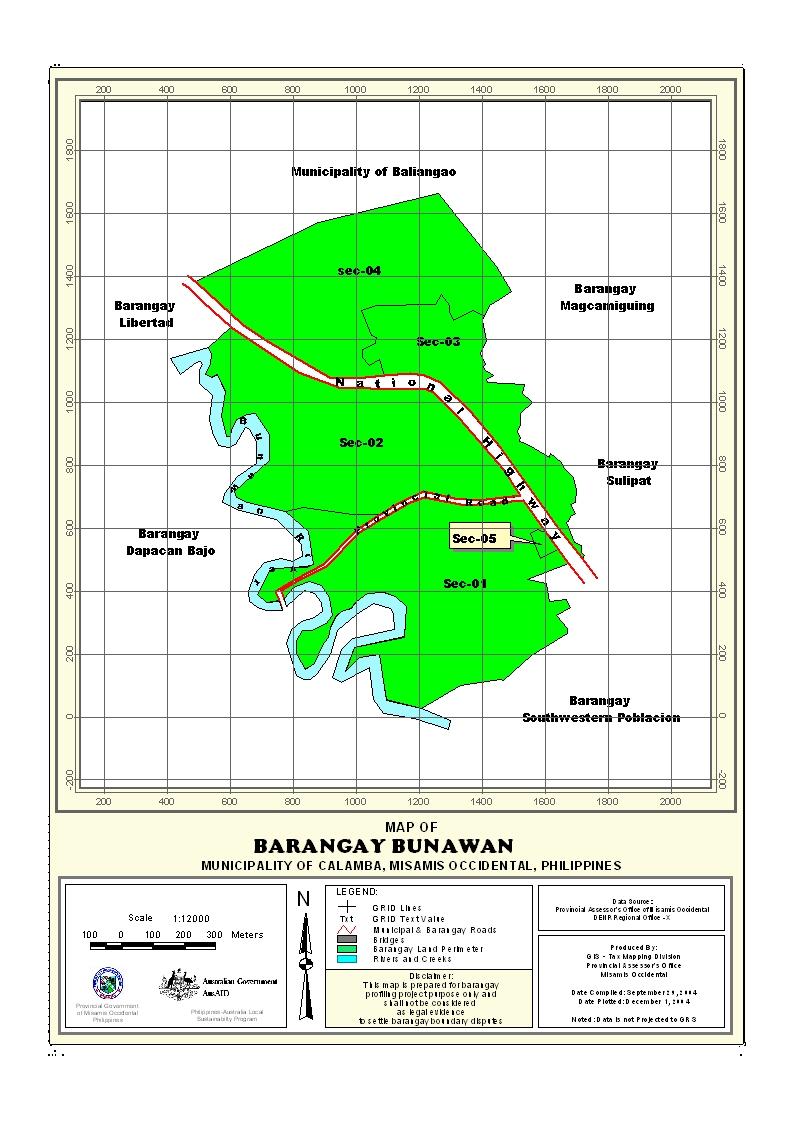 Brief history of the Barangay
Barangay Bunawan was formerly called "Pilipogan" due to the presence of vast of the so called "polipog" in local dialect. This is the other variety of coconut trees.
In the year 1948, Municipality of Calamba was created but before its creation, Pilipogon was named to Barangay Bunawan.
Primary School and infrastructure like Barangay Hall were constructed in year 1961 under the leadership of Barangay Captain Daniel Aguirre. At present, additional infrastructure were constructed like Barangay office, health center and water system.
Geographical Location
Barangay Bunawan is a lowland area. Its distance from the town proper is 1 km. and the Barangay is located along the national highway. It takes five (5) minutes to travel through any type of vehicles. Core purok areas are passable only with motor single or "habal-haba"l in local dialect as their means of transportation. Bunawan is bounded on the North by Dapacan Bajo, South by Barangay Magsaysay of Municipality of Bonifacio, East by Barangay Magcamiguing and West by Barangay Libertad.
Political Subdivision
Barangay Bunawan has 4 puroks: Purok 1, Purok 2, Purok 3 and Purok 4. It became a Barangay before Calamba became a municipality in the year 1948.
Land Area
Barangay Bunawan has a total land area of 516.92 hectares. It has its land classification and uses.
Topography and Land Classification
Its terrain is gently sloping to undulating with a slope of 0-18% and an elevation of 100-300 masl. The type of soil is Guimbaloan Clay Loam.
About 97.56% percent of the areas are agricultural land and some portions of it are commercial land, residential land, institutional and open space. The main crop planted is coconuts where mostly of the residents are farmers.
Soil Types
The soil type of all part of the barangay is classified as Guimbaloan Clay Loam. It is characterized as generally deep to very deep, well drained, clayey texture of various surface colors as brown to dark brown, dark yellowish brown, and dark brown and yellowish brown. The color changes depending on soil texture and extent of erosion. Coconut, enter planted with bananas and some other fruit trees are the most suitable to this type of soil.
Climate and Rainfall
The Barangay together with the Municipality is under the Type IV climatic classification with no pronounced dry or wet season. This climate is characterized as moist, with an average rainfall of 2,278.7mm throughout the year. The wettest period spreads over an eight-month period from May to December, however, the rainiest months are in the last quarter of the year from October to December when 40% of the rainfall is recorded. While sparse rain showers are experienced during the remaining months, the driest months are February, March and April.
General Land Uses
Barangay Bunawan has vast agricultural land area of 504.33 hectares with a total of 97.56%. The most dominant farm product is coconut which covers the entire Barangay and about 13% are planted with corn, fruit trees and vegetables. It has a present plantation of durian with approximately 6 hectares. Remaining land uses are residential lands that equivalent to 1.30%, 0.10% identify as commercial land, 0.85% institutional and 0.19% open space.
The average agricultural land holding per household is 2.07 hectares. About 82% are identified as owners. Of the 55% of the total farmers, 13% of these are tenants and some are usufruct and leasehold.
| | | |
| --- | --- | --- |
| General Land Uses | Area In Hectares | Percentage |
| Agricultural Lands | 504.33 | 97.56% |
| Residential Land | 6.72 | 1.30% |
| Commercial Land | 0.47 | 0.10% |
| Institutional Land | 4.4 | 0.85% |
| Open Space | 1 | 0.19% |
| Total | 516.92 | 100% |